HAPPY 4TH OF JULY! Yeah yeah yeah, I know not yet but, I'm already getting into it. This 4th weekend is going to be one of my best 4th's in a while. Let me tell you why. Friday night at The Hemlock Tavern in the lovely District of the Tenderloin, MODEY LEMON out of Pittsburg, PA will be bringing the fuzz out, garage out ROCKNROLL to San Francisco. Their new album "Season of Sweets" just came out on Birdman Records so, I advise you to go out and get it. The other bands on the bill are label mates and SF locals, LULU AND THE GUITARFISH and from Oakland, FAUNA VALETTA. Come out and ROCKNROLL Your way on the 4th!
This Saturday, July 5th and Sunday, July 6th we are getting our own Metal Festival here in San Francisco. TIDAL WAVE 11 is a FREE two day event at John McLaren Park. YES, FREE! No two day passes or anything. Just simply FREE! The two day event consists of the following bands in no particular order: Exodus, Hirax, Attitude Adjustment, Psychosomatic, Zombie Holocaust, Ludicra, Saros, Fog Of War, Agenda of Swine and more. . . This is the festival of the summer here in the Bay Area. F*** THE REST!
Tuesday from 4TO6PM (PST) on my other radio show, I'm going to have a good friend of mine in studio because they're having a CD release party at 12 Galaxies in The Mission District. My friend Tony of TOTIMOSHI will do his first solo acoustic set on my radio show. That's right, acoustic set next Tuesday, July 8th sometime between 4 and 6PM (PST). You can listen in at 87.9FM in the whole Bay Area or online at WWW.PIRATECATRADIO.COM. A few hours later, Tony will connect with his band at 12 Galaxies and play with some good friends of theirs, BIG BUSINESS and TRICLOPS. Oh yeah, what a release party it will be. So, come on down if you can and enjoy some great tunes, people and a have music experience you won't forget it. See you there or on the internets.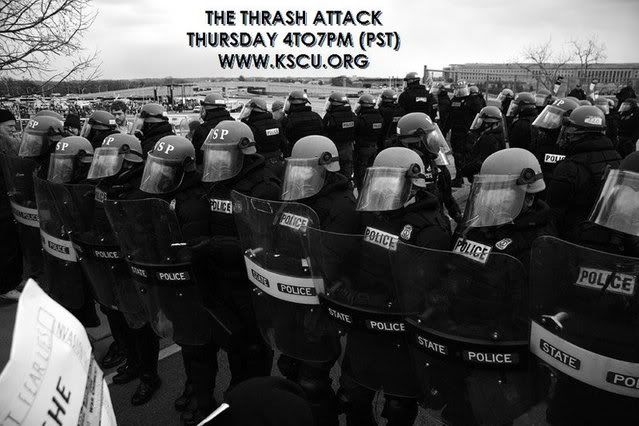 DON'T FORGET! I still have my other radio show, THE THRASH ATTACK every Thursday 4TO7PM (PST) at KSCU 103.3FM in the South Bay or online at WWW.KSCU.ORG.
Have a great holiday weekend. Don't forget why we celebrate the 4th. Don't forget the troops and don't forget the ribs for your friends bar b q. CHEERS!!
PLAYLIST - JUNE 26, 2008
*request / L-local
*(intro) Melvins / honey bucket / Houdini Live 2005
***THE THRASH ATTACK***
*Made Out Of Babies / peew / The Ruiner
*Head On Collision / enemy lines / Ritual Sacrifice
*Deadbird / into the clearing / Twilight Ritual
*Unleashed / the greatest of all lies / Hammer Battalion
*Gama Bomb / bullet belt / Citizen Brain
*Aborted / enterrement of an idol / Strychnine.213
*Order Of The White Rose / guilty / War Machine
----------------------------------------------------------------------------------------------------
*Zero Down /sweet thing / Good Times at the Gates of Hell
*Ufomammut / ammoma / Idolum
*Boris / untitled / Smile
*Torche / sandstorm / Meanderthal
*Sirhan Sirhan / surgery / Blood
----------------------------------------------------------------------------------------------------
*mandatory MELVINS / antiitoxidote / Eggnog
*Venomous Concept / a case of the mondays / Poisoned Apple
*The Secret / kill the dead / Disintoxication
*Terror / betrayer / The Damned, The Shamed
*Racebannon / terror & dread / Acid or Blood
*Sweet Cobra / luddite / Forever
*Spitfire / meth monster / Cult Fiction
*Romans / the last fifty-eight quatrains of the seventh century / All Those Wrists
*Agenda Of Swine / stains of accountability / Waves Of Human Suffering
--------------------------------------------------------------------------------------------------
*Withered / reveal the essence of suffering / Folie Circulaire
*Abysmal Dawn / compulsory resurrection / Programmed To Consume
(L)*Hatchet / frailty of the flesh / Awaiting Evil
*Cancer Brats / harem of scorpions / Hail Destroyer
*Amebix / no gods no masters / No Sanctuary: The Spiderleg Recording
-------------------------------------------------------------------------------------------------
*Coffins / deadly sinners / Buried Death
*Javelina / throttled / Javelina
*Cryptopsy / bemoan the martyr / The Unspoken King
*Shai Hulud / venomspreader / Misanthropy Pure
***END OF THE THRASH ATTACK***
*Sassy!!! / shake what yo momma gave you / Get A Grip
*The Kung Fu Killers / i want to go / Fists Of Fury
*The Family Curse / to the moon / Spice Rack
*Mudhoney / what's this thing? / The Lucky Ones
*Federale /delta burke / Federale


KSCU TOP 10 Loud Rocks
1 AGENDA OF SWINE Waves Of Human Suffering Relapse
2 ROMANS All Those Wrists Blackmarket Activities
3 RACEBANNON Acid Or Blood Southern Records
4 SIRHAN SIRHAN Blood Anodyne
5 HATCHET Awaiting Evil Metal Blade
6 UFOMAMMUT Idolum SupernaturalCat
7 CRYPTOPSY The Unspoken King Century Media
8 AMEBIX No Sanctuary: The Spiderleg Recording Alternative Tentacles
9 VENOMOUS CONCEPT Poisoned Apple Century Media
10 TERROR The Damned, The Shamed Century Media
***NO SHOW THIS PAST TUESDAY AT PIRATE CAT RADIO***